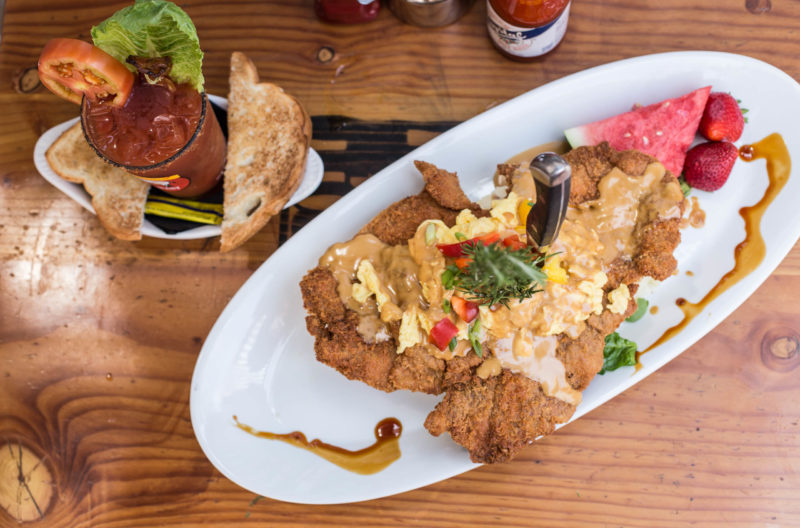 Brunch
SUNDAY-THURSDAY 8AM-2PM / FRIDAY & SATURDAY 8AM-9PM
THE BASIC
TWIST YOUR DISH!
cheddar cheese 1.00
one extra pork sausage link 1.50
one extra piece bacon 1.50
one extra turkey patty 1.50
one extra egg 1.50
TWO EGG BREAKFAST

any style, served with potatoes and your choice of bacon, sausage links, turkey sausage patties, plus fruit garnish and biscuit or toast
SANDWICHES
all sandwiches are served w/ crispy fries or salad w/ creamy cucumber ranch dressing

TWIST YOUR DISH!
avocado 1.50
bacon 1.50
mushroom 1.00
cheese 1.00
jalapenos 1.00
fried egg 1.50
• sub sweet potato fries for only a buck more
THE KOKOMO

our famous HH griddled meatloaf with roasted tomato & mozzarella on old fashioned milk bread

FRIED CHICKEN SANDWICH

Andy's sage fried chicken breast on a fresh toasted bun with mayonnaise and pickles

make it SPICY with a dusting of habanero powder and ghost pepper aioli for a buck more

1.00

BBBLT

bacon, bacon, bacon, lettuce, and tomato on griddle milk bread with mayo

NASHVILLE HOT CHICKEN SANDWICH

Andy's famous fried chicken, dipped into our super spicy Nashville hot sauce. Served open faced on our griddled milk bread topped with dill pickles
FISH & CHIPS

battered cod filets, crispy fries, creamy coleslaw and house tartar sauce
BACON, BACON, BACON

with brown sugar, HH seasoning and black pepper

FRIED ZUCCHINI STICKS

crispy fried zucchini sticks served with dijon horseradish aioli

HASH HOUSE MAC N' CHEESE

made with milk and lots of cheddar cheese, topped with toasted breadcrumbs

Traditional

10.99

Bacon

12.99

Chorizo

13.99
SALADS
all salads served with a fresh homemade biscuit
• add grilled or fried chicken breast (6.99)
• add grilled salmon* (8.99)
THE HASH HOUSE COBB

mixed greens, grilled chicken, red onion, tomato, blue cheese crumbles, hickory smoked bacon, hard boiled egg & avocado all tossed w/blue cheese dressing

BIG O' CAESAR

made in the style of Old Tijuana - chopped romaine, pasteurized egg yolks, anchovies, and parmesan cheese topped with polenta croutons and our unique parmesan crisp
COUNTRY FRIED STEAK & EGGS - NEW!
breaded 9oz steak fried to perfection topped with our house made sausage gravy and griddled mashed potatoes, served with your choice of eggs
DESSERT
BIG ENOUGH TO SHARE!
CHURRO WAFFLE

our vanilla waffle dusted in our old fashioned cinnamon sugar mix, drizzled with caramel and topped with a scoop of vanilla ice cream
Dinner
FRIDAY & SATURDAY 5PM-9PM
BACON, BACON, BACON

with brown sugar, HH seasoning and black pepper

FRIED ZUCCHINI STICKS

crispy fried zucchini sticks served with dijon horseradish aioli
SALADS
all salads served with a fresh homemade biscuit
• add grilled chicken breast (6.99) to any salad
• add grilled salmon* (7.99) to any salad
THE HASH HOUSE COBB

mixed greens, grilled chicken, red onion, tomato, blue cheese crumbles, hickory smoked bacon, hard boiled egg & avocado all tossed w/ blue cheese dressing

BIG O' CAESAR

made in the style of Old Tijuana - chopped romaine, pasteurized egg yolks, anchovies, and parmesan cheese topped with polenta croutons and our unique parmesan crisp
DESSERT
BIG ENOUGH TO SHARE!
CHURRO WAFFLE

our vanilla waffle dusted in our old fashioned cinnamon sugar mix, laced with caramel and topped with a scoop of vanilla ice cream